Our Services
Remodel Your Kitchen
Most Cabinets Can Be Refaced
Kitchen cabinet refacing includes reinforcing your existing cabinet frames with a durable ¼" plywood, then a veneer of real wood or maintenance-free laminate is applied over the plywood. Our expert craftspeople: perform precise measurements to ensure your new refaced cabinets boxes are seamless and color-matched to perfection with your new doors and drawer fronts. We finish the transformation with your choice of new hinges, knobs and/or pulls, and molding.
Free Quote
The Benefits
What Are the Benefits of Kitchen Cabinet Refacing?
Kitchen remodeling can be overwhelming. But refacing cabinets simplifies the process and offers you
several advantages over installing all new cabinetry.
Get your new kitchen in as little as a week
Save up to 50% of the cost for new cabinetry
Choose from 100s of color & style combinations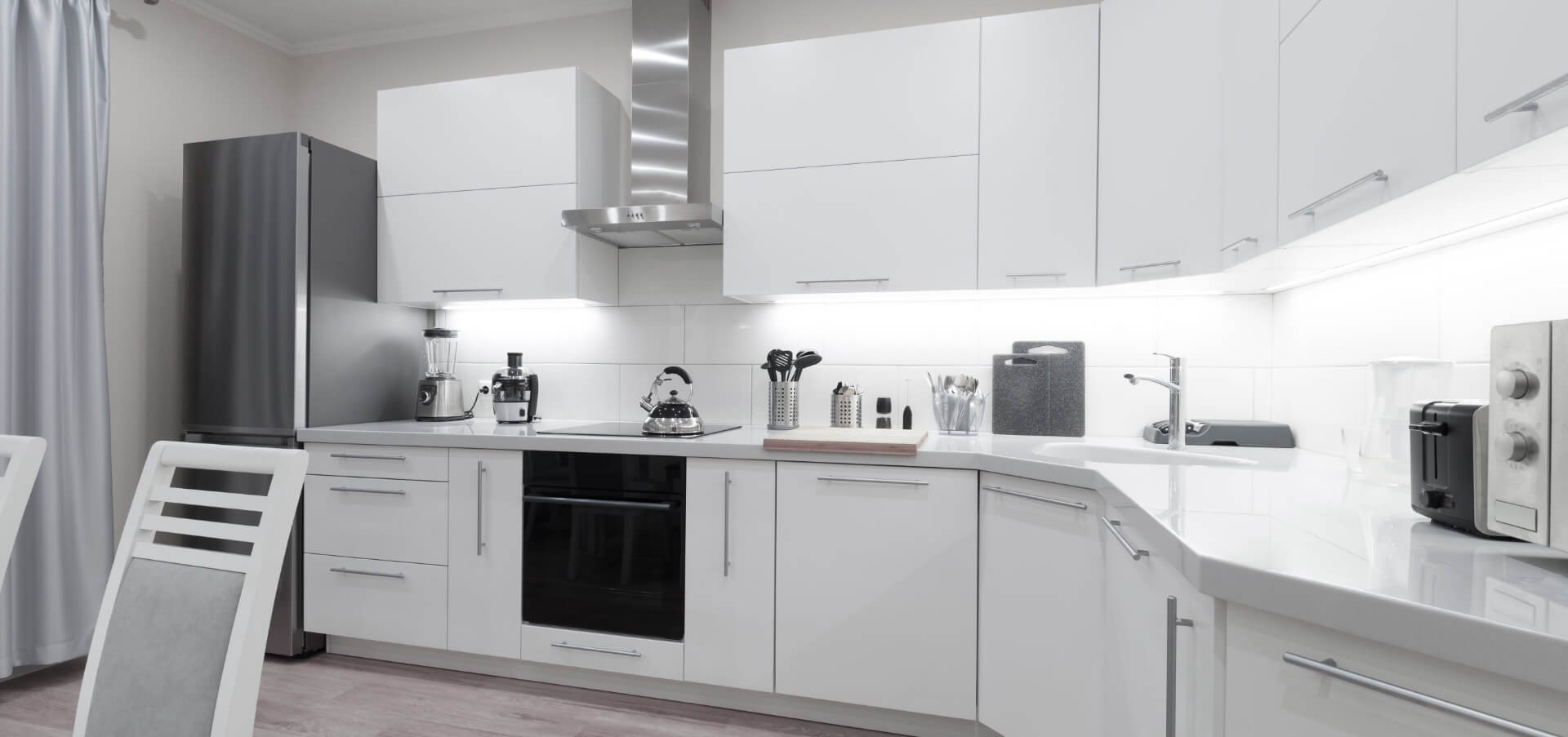 Before & After
Transform Your Kitchen Cabinets,
Like Magic!
Our Process
The Cabinet Refacing Process
Design Consultation
Precision Measure
Project Coordination
Kitchen Transformation
One of our expert design consultants will come to your home with all the details and samples of our remodeling services and products. We will give you our best advice, at no charge and with no obligation. You'll receive an exact price-quote for your project.
Our skilled and knowledgeable draftsman will come and take extremely precise measurements of your kitchen, and report them back to headquarters so our production team can begin ordering everything needed for your new kitchen.
You will have a dedicated project leader that is assigned to your project, who will be your trusty-guide throughout the process of your kitchen remodel. They will coordinate all the details and individuals, while keeping you in the loop.
Your new kitchen will be installed by our certified installers, who are truly skilled craftsman of their trade. Their perfectionism and high standards, that Kitchen Magic is known for, will result in a gorgeous kitchen that will last a lifetime.
Customer Reviews
See What Our Customers Are Saying About Us
Contacting Kitchen Magic to do our kitchen refacing was the best decision we could have made. From start to finish everything was very professional and organized. Customer service has gone out of their way to make sure our finished product was exactly what we wanted and we couldn't be happier
Faq
Frequently Asked Questions
Are your estimates and consultations really free?
Yes! Your initial design consultation is completely free with no obligation. Our experts are here to give you the very best advice, whether or not we earn your business. While initial consultations are a free service to our customers, they can be costly to our business. Our representatives often drive long distances, and take as much time as required to fully assess your needs and develop an individualized solution. In order to continue offering this free service, we ask the following: All homeowners/decision makers be present during the initial consultation. We must meet with the current owner of the property being considered for improvement. To schedule your free consultation, call us at: 800-272-5490 or visit: https://www.kitchenmagic.com/estimate-request
Are virtual consultations available?
Yes! We offer free virtual or in-home design consultations for your remodeling projects. call us at: 800-272-5490 or visit: https://www.kitchenmagic.com/estimate-request to schedule today!
Is financing available?
Yes! We have a variety of financing options available. Learn more at: https://www.kitchenmagic.com/financing-options or ask your Kitchen Magic consultant for more information!
Will I get a warranty on my kitchen?
Kitchen Magic proudly offers a Lifetime of Home Ownership Warranty on our most popular cabinet colors and styles. We cover all applicable warranty details during your free consultation, but you can also view details here: https://www.kitchenmagic.com/service/warranty
Who makes Kitchen Magic cabinets?
All of Kitchen Magic's cabinets are custom made in the USA by our very own gnomes at our headquarters located in Nazareth, PA!
How long will I be without my kitchen?
We provide consecutive day installation whenever possible. Most kitchen remodeling projects including cabinet refacing and a new countertop are completed in as little as a week, depending on the scope of the project. All-new and custom kitchen cabinets typically take longer. It is our priority to keep your kitchen remodeling project progressing seamlessly to minimize any disruption to your household.
How do I prepare my kitchen before installation?
Before we begin working on your kitchen, we will need you to empty the contents of your cabinets and clear your countertops. We also recommend covering your furniture and other contents in adjacent rooms to minimize your cleanup after your kitchen is completed.
What do you do about the inside of the cabinets?
About 80% of what you see in a kitchen are the cabinet door fronts. With cabinet refacing, the interiors of the cabinets stay as they are unless you request otherwise. Your designer will inspect the condition of your existing cabinetry and make the appropriate recommendation for your situation.
What cabinet styles and colors do you have?
We offer both wood and maintenance-free laminate cabinet doors in a wide range of colors and styles. Check them out here: https://www.kitchenmagic.com/kitchen-cabinets/doors
What types of countertop materials do you have?
We offer durable and antimicrobial quartz surfaces including Cambria®, Hanstone® and Viatera®, as well as solid-surface Corian® and Granite countertop surfaces. In addition, we carry WilsonArt laminate countertops available in a variety of styles, colors and finishes!
Do I need permits or any special paperwork from my local municipality or in the case of a building association from their management office?
We advise that you inquire with your local municipality or building association management office to see whether any paperwork is required for your project. Permits are the homeowner's responsibility. We are happy to assist you in the paperwork process. If possible, please have your documents ready for your draftsperson at the time of your project measure.
Who do I contact about my remodeling project?
Once your installation date is scheduled, you renovation will be assigned a Project Leader. Our support team will also be ready to help answer any questions you may have and provide status updates throughout your installation. Of course, your Kitchen Magic consultant is also available to assist and can direct you to the appropriate contact should you require any additional help.